At IMP Naval & Land Services, we strive to provide our customers with the freedom to focus on their core competencies, while we supply a foundation of key support services.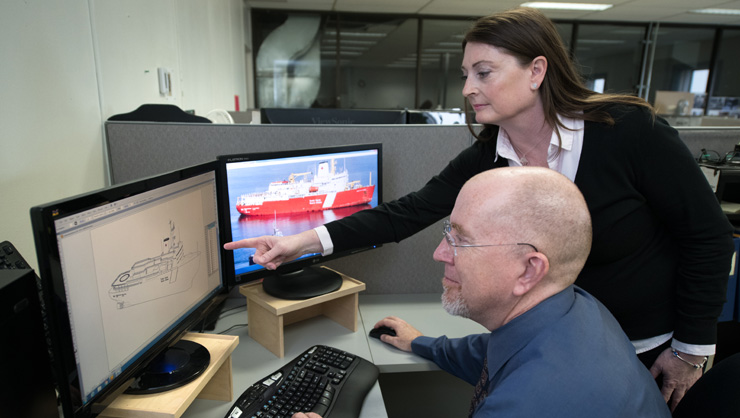 Each service is tailored to each client's naval requirements, from one-off-task requests to full Performance Based Logistics In-Service Support.
Logistics Support Analysis (LSA) Services
Our dedicated Logistics Support Analysis (LSA) Departments specialize in optimizing the cost of ownership by using the latest software tools and techniques to efficiently conduct LSA engineering services for naval customers, both military and commercial.
Deployable Technical Publication Solutions
Adhering to both commercial and military specifications, our Technical Publications Department produces technical maintenance and operations manuals for the Canadian Department of National Defence (DND) and other commercial customers. IMP Naval & Land Services is at the forefront of Canadian technical publications management, producing thousands of hard-copy and Interactive Electronic Technical Publications (IETP) pages annually.
Engineered Solutions
With a dedicated team of 150 professional engineers, technologists, designer/draftspersons, and technical specialists on staff, IMP Naval & Land Services is equipped to meet the full range of engineering service needs, including a full suite of design, analysis, and support services.
Naval Supply Chain Management
The team at IMP Naval & Land Services understands that supply chain management is more than just coordinating parts and services, as it requires a proactive approach to selecting suppliers who understand your business needs and are able to provide tailored solutions. That is why our team works to ensure that all parts and services are available when needed to support your business requirements.
Electrical, Mechanical & Dimensional Calibrations
Our facilities, situated in a 1400 sq. ft. clean room, are specifically designed to meet and exceed national standards for mechanical calibration laboratories. With a dedicated team of technicians working in our facilities, IMP Naval & Land Services is able to meet and manage all of your calibration requirements.